In 2007, search marketing professional Kelvin Newman, arranged a small gathering of industry colleagues. The idea was to discuss in depth a topic which they were rarely granted the opportunity to "really talk about with anyone outside the industry for fear of them falling asleep"! That first event brought together a few friends to a small pub in Brighton.
Fast-forward to 2019 and BrightonSEO is now the largest SEO conference in Europe, if not the world. Over 4,000 tickets were sold to the event this year, which attracts industry-leading speakers worldwide. Inkvine attended this year's event at the Brighton Conference Centre. Throughout the day, we heard from over a dozen of the most brilliant minds in SEO. Below are eight of our key takeaways from the day.
1/ Create Authentic Connections With Podcasts
In the 2000s, podcasting found its way onto the public domain but largely failed to capture the imagination of a mainstream audience. In 2019, the second coming of the podcast has arrived. According to a study carried out in 2018, roughly two in five consumers in Ireland listen to podcasts at least once a month. That figure is slightly above the 27% and 33% averages in the EU and the US respectively. In the UK, the number of weekly podcast listeners almost doubled in five years from 3.2m in 2013 to 5.9m in 2018. We hypothesise that this figure will only increase as more people are introduced to this medium.
In the age of mass content, consumers are seeking a more authentic connection with the icons they follow and the brands they buy from. In a talk titled 'Podcasting for Subscribers, Mentions and Really Big Links', Corinne Card of Full Story Media first grabbed the audience attention with some of the above mentioned statistics. She then offered the following bits of advice for those interested in heading down the podcasting route.
Be mission focused

, don't start a podcast to tick a box, do it to satisfy a genuine curiosity.

Don't be flippant about naming your podcast.

Take an analytical approach and carry out deep keyword research before choosing an attention-grabbing title.

Know your audience –

What is your audience interested in? If you are starting an interview podcast, what guests would they love? And don't just use guesswork, carry out some more research or ask your existing audience directly.

The barriers to entry are minimal.

To start a podcast all you need is a microphone (Corrinne recommended Blue Yeti Mics), recording software (Garage Band) and a hosting platform (Audio Boom). (From our experience at Inkvine we have noted how important audio quality is to a podcast's success. When a decision is made to progress with a podcast, audio is one area well worth investing in.)

Be authentic and exciting.

Podcasts are generally long-form. Don't try to be someone else, you won't be able to keep it up. Be authentic and be genuinely excited about what you're doing. Find your true voice and switch on your creativity.

The intro is all important.

Similar to choosing a title, the introduction to a podcast must be carefully considered. There are now thousands of podcasts vying for your audience's attention. Your podcast should be based on a solid premise and the introduction should both inform and entice the listener.

A great place to start.

For those in the preliminary stages of launching a podcast, a great place to start is by taking the role of interviewee. Reach out to any podcasters you know and start with a few guest appearances.
Only 7% of podcasts live past the 7th episode. We hope the above will help to improve your odds.
2/ Be Intentional When Choosing Your Brand Voice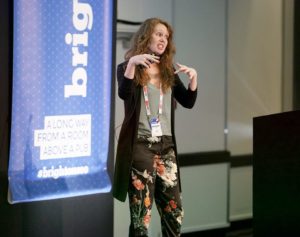 For those interested in content, one of the standout talks at BrightonSEO 2019 was given by Bethany Joy. Bethany is a self-titled "brand voice crafter and wordsmith extraordinaire". Her talk, 'Stand Out Online With a Unique and Compelling Brand Voice', described the mismatch that often occurs between an organisation's intention and execution. She introduced the audience to one of her clients – a hospice that wanted to give off an air of warmth and comfort but through their content seemed sterile and institutional. Oftentimes, the only way a person can form an opinion about your company is through your content. It is thus ever important that you give the right impression.
Bethany's advice went as follows:
Be intentional when choosing your brand voice.

Look at your current voice and what it exudes. Understand who you are and who you are speaking to. Does your brand voice convey who you want to be as an organisation?

Flesh out and define your desired voice.

Provide simple guidelines to all those writing or sharing content on behalf of the company. Ensure consistency in everything you produce.

Assess your content regularly to ensure that your voice is true to your organisation's values. Let your brand's personality shine through your content.
3/ Alexa is Just The Beginning of Voice Search
Our afternoon session was concerned with what's coming around the corner, 'The Future of Search Marketing'. One of the standout talks was given by Patrick Reinhardt, a podcaster, webinar host and VP of Digital Strategies at Conductor. He argued that Amazon's Alexa (arguably the world's most well known voice-activated virtual assistant) is only the beginning of voice search.
Although, voice search mightn't be something that is currently occupying much of your mental real estate, it is something to keep in mind nonetheless. With social media, YouTube, podcasts and even PPC advertising, early adopters have benefited hugely. With voice search, it is a bit trickier. During his talk, Reinhardt admitted that, at present, success in voice search is virtually impossible to quantify. Most of the interactions that takes place between a user and Alexa are not even searches but commands. "Alexa, turn on the radio", "Alexa, start a ten minute timer", "Alexa play U2 on Spotify". However, Reinhardt claimed that Alexa is to voice search what the Wii was to motion control and Google Glasses were to augmented reality. In other words, a mere taste of what is possible and phase 1 of a worldwide adoption.
The next generation will be born into voice control and understand its applications. They will be raised in a world where conversing with phones and watches is normal. Soon they will even be sending commands to their headphones, glasses and necklaces. When that happens, search marketing could move from screens to wearables. It's a peculiar, almost alien-like concept right now. But, as mentioned above, it's something to keep in mind.
This is the second time in 2019 that our minds have been opened to what the future of voice search holds. In March, Inkvine founder – Emily Ross, attended SXSW as an advisor. While there she attended an extraordinary talk from Mastercard CMO, Raja Rajamannar. In it, he described how Mastercard introduced the concept of a Mogo (music logo). This is the sound you hear on audio that immediately distinguishes one brand from another without mentioning the brand name. (The full talk can be found on SXSW's website – here.)
4/ The Future – SEO is Heading in a Product Management Direction
As mentioned above, the final session attended on the day was based on 'The Future of Search Marketing'. Within this session, Marcus Tober gave some of his predictions. Marcus is founder and CIO of Searchmetrics. Marcus is an SEO optimisation specialists and in 2016, was named "European Search Personality of the Year". One of the key takeaways from his talk was that "SEO is heading in a product management direction". What this means is that SEO is becoming less about using SEO strategies independently. You have to tend to technical SEO, UX and business in tandem.
Through his research, Marcus found that user experience is becoming one of the key ranking factors. What is your website's health score? What is your page loading speed? Is your website stuffed with keywords, links and unnecessary content or is there a proper strategy in place? One of his "Monday morning tasks" was to run your website through Google Lighthouse and see where you stand. This instruction was echoed by several technical SEO speakers on the day. You might find that site performance is what's holding you back all along
5/ Search Intent is all Important
Throughout the entire conference, a phrase that kept cropping up was "search intent". Search intent is the user's motive behind a search query. Izzi Smith is an SEO specialist, award-winning speaker and weekly podcast host. She broke down search intent into five distinct categories:
Transactional –

Carrying out a specific action in order to spend money or buy something .i.e. buying clothes online.

Answer –

Looking for a direct answer to a question .i.e. "What time does Woodies DIY open?"

Research –

Looking for information, guides, data or comparisons .i.e. "How to build leg muscles?"

Local –

Looking for something in your locality .i.e. "What hairdressers are there near me?"

Visual –

The best examples of this could be how-to or inspirational videos.
At least 50% of all Inkvine attended talks had short segments entirely dedicated to search intent. That is the reason we thought it was important to include in our key takeaways. Sometimes, search intent is obvious. For example, you wouldn't build an entire SEO strategy around the high traffic phrase "what time is it?". However, sometimes it is much more subtle.
Emily Potter, a speaker mentioned previously, advised attendees to avoid keywords with "commercial intent" .i.e. Brand names. Christoph C. Cemper spoke of targeting "money keywords" with your internal linking. In other words, keywords with transactional intent. This tactic was also urged by Izzy whose key takeaway was to target and win featured snippets that have transactional intent. All mentions combined cemented the theory that – in search, intent is all important.
6/ Drive Meaningful Traffic With Enriched SERPS
Staying on a similar to that mentioned above, we will discuss SERPS. The first session of the day was concerned with SERPS (Search Engine Results Page) and how your content is displayed on them. Izzy Smith, mentioned previously, urged the use of rich snippets to drive click-throughs and bring the right type of users to your site. According to Izzy, well thought out snippets (meta-titles, meta-descriptions, images, URLs) provide "machine-readable meaning to your delicious content".
Amongst other factors, creating valuable, well-optimised content can get your website on page 1 of the search results. However, that is not the job done. This is where Enriched SERPS are vital. Even when on the first page of Google search results, users are looking for relevant content. By organising your SERPS in an intentional way, you can explain exactly what is on your page and give users a reason to click-through. Through driving this meaningful traffic, you are more likely to get users that are interested in your content, stay on your site longer and carry out further actions. In Izzy's studies she found that bounce rate reduced by 31%, time on site increased by 23% and conversions increased by 52%. (More on that can be found in Izzy's slides.)
Izzy Smith gave the perfect example of an enriched SERP below. Look how the layout of the first search result compares to the two below. The description leaves the user with no doubt as to what will be on the page itself.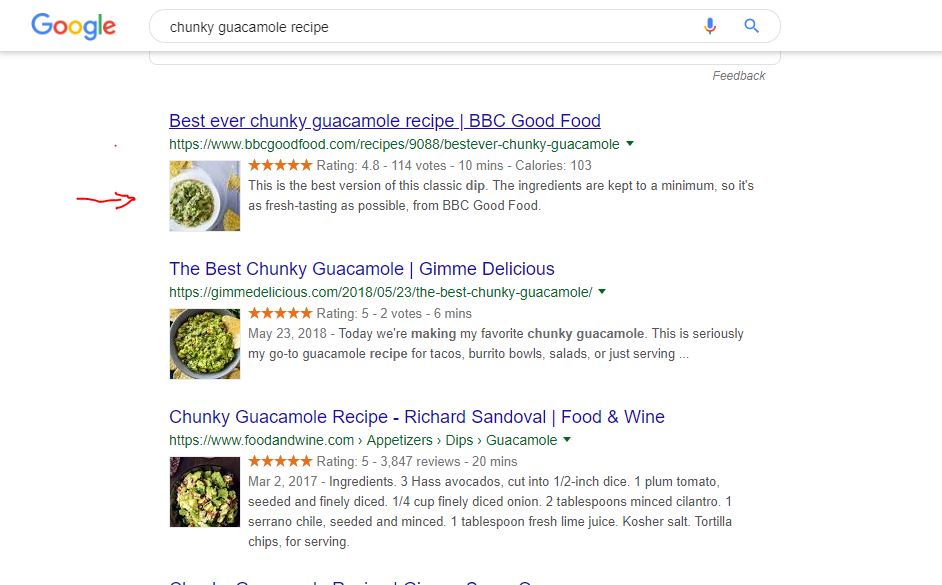 7/ Featured Snippets are Something Worth Fighting For
Featured snippets are that piece of content which sometimes appear at the top of the search results which answer a specific question related to your search query. If you publish a well optimised piece of content that answers a specific question, you may find your content featured here. Although technically the number one position in the search result, the value of featured snippets is a hotly contested topic in the SEO world. Some claim that users skim over featured content and that it doesn't actually drive traffic. One person that shared that view was speaker Emily Potter.
Emily set out to prove her hypothesis that owning a featured snippet does not have a significant impact on click-through rates. Using STAT and Google Search Console as her data sources, and with over 3,834 data points, she conducted a short period of intensive research. In the end, she proved herself completely wrong! In her studies she found that owning featured snippets not only increased click-through rates but positively affected other ranking keywords too. As an aside, she also suggested that featured snippets build brand awareness. Emily shared this advice on competing for featured snippets.
Research keywords that you currently rank for. Go to the search results and see if that term currently has a featured snippet. (Not every search query contains a featured snippet.)

Avoid keywords with commercial intent – brand names etc

Analyse the webpage of the current featured snippet and mimic their style on your own page.

Add on-page content for well performing pages.

Answer the featured snippet's question directly on your webpage and optimise your page accordingly.
Featured snippets is something that we have been concentrating a lot on this year at Inkvine. Below is the result of work we did with telematics software provider, RentalMatics. This strategically-created post now occupies both the featured snippet and the number one ranking position. This combination has drove both traffic and brand recognition.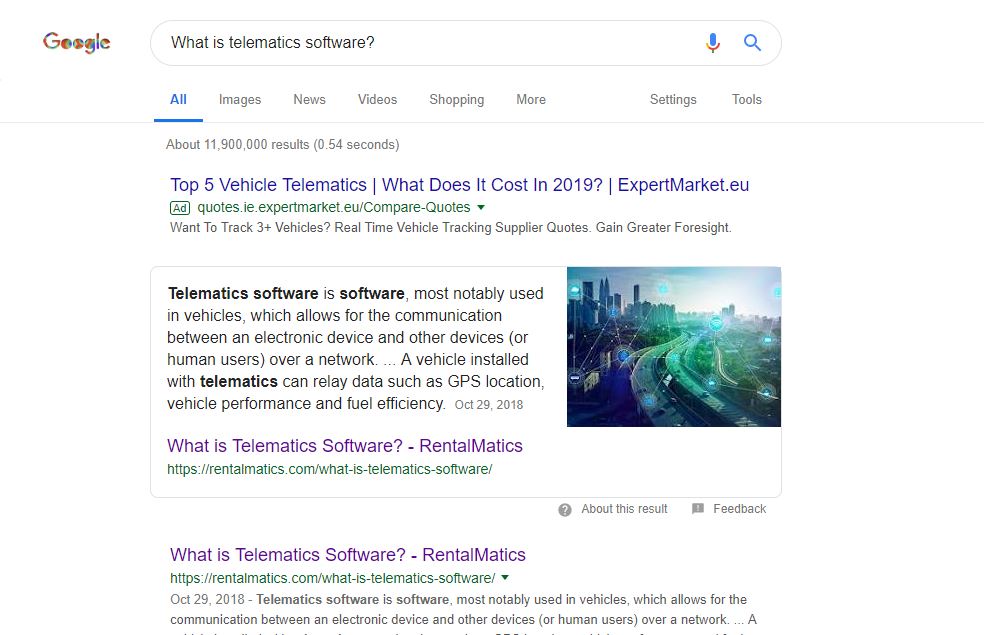 8/ Adopt an Aggressive Internal-Linking Strategy With "Money Keywords"
Rich backlinks (external links coming from high performing websites) are very beneficial for your website. But what about internal links? This was a question posed by Christopher C. Cemper of LinkSearchTools. Internal links are the links that take users from one part of your website to another. Cemper argued that internal links are an often overlooked tactic for improving your keyword ranking.
Through years of experience and research, Cemper has seen the positive effect that internal links have on ranking position. He challenged his audience to be as intentional when choosing internal links as you would when organising pay-per-click advertising keywords. His advice was to focus on "money keywords". These are the keywords that you rank for which lead to transactions.
Let's say for example that a company has an SEO tool called 'Hyper2000' for sale on its site. What generally happens is that the company would use the product name, 'Hyper2000', as the linking keyword. However, off-site, the company might try to rank for a more generic term such as "SEO tool". Cemper says that this contrast is nonsensical and instead the money keyword "SEO tool" should be targeted both internally and externally. Also, as it's on your site, you can be a lot more aggressive with your internal-linking strategy in order to achieve even bigger rewards.
---