Generating publicity for a local event isn't all that hard – once you know what to do! A local event is most certainly 'news' and you'll find most local papers are super keen to at least mention your event. There are three things that matter.
Is your event relevant to their readers?

can you supply all the information in a way that makes life easy for them?

and can you give them plenty of notice?
If the answer is yes to all three, then you're golden. 
So this blog post is going to take you through the seven steps to getting your local event noticed.  I'm going to use a recent local event that I helped promote as an example.
Step 1: Research
The plan for your event should done well in advance. The bigger the event, the more time you'll likely need. Don't forget that local publications have longer print cycles – they might only issue weekly, or every two weeks. Trade publications that come out monthly may have issues 'put to bed' months in advance! Take the time to build a list of all local papers. Medialive.ie is a handy local resource for this. It's free to register, and you can search by county and by channel – so it has a list of all radio, press publications, magazines etc at national and local level. Here's a list of local press for Tipperary. About the only downside is that once they have your contact details, they will try super hard to sell you their services! Consider that when you sign up.
Step 2: Build your target list
Create a spreadsheet of every publication, and look up the relevant editor or journalist to suit your event. I was promoting an art exhibition in Ballina, County Tipperary. Because it's right beside Killaloe, which is County Clare, I created a list of publications for Clare, Tipperary and Limerick. I then looked for main editors addresses, and those responsible for stories on art or culture, or 'what's on' sections. I also added some special interests groups, local hotels, the local library and others to my contacts list. I paid special attention to Facebook groups and pages that share what's on. For example http://www.ilovelimerick.ie is a great portal site for events, that isn't a traditional publication. Don't overlook smaller, targeted agencies, like local community or resource centres. These organisations are invaluable and usually happy to help. 
Step 3: Press release
I've already blogged about how to write a press release. For your event, all the same rules apply! Here's the release I put together for the art exhibition.
It follows all the rules, telling the reader, who, what, where, why and how – all in the first sentence. Each paragraph stands alone, and is sorted by the most important information first.  I included some thumbnails of of the artwork, and a nice high res headshot of the artist herself and I sent it out well in advance.
Step 4: Follow up
No list is perfect, and you'll likely have a few email addresses bounce back. Call the publication and ask for an up to date email address, explaining that the one you have has bounced. You'll keep your contacts list up to date, and you'll have a chance to check if your release got to the right person. You can offer to provide alternate images, or a direct quote, or perhaps suss out if any journalists would like an invite to the event itself. A top top here is that press always like to know 'who' is going to be there. For your local event, if there is anyone of note planning on attending then let them know 🙂
Step 5: Get social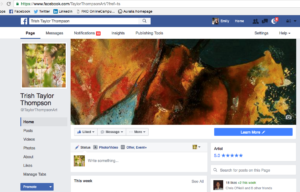 Now this is common sense event promotion, but make sure your event is listed on Facebook. You can create a Facebook event, or take to the page of the person or business behind the event. Make sure the post that promotes the event is set to be shared publically, and make sure to add an image. For our art exhibition, I created a public Artist's Page for Trish, added lots of images of her previous work, and included details of the launch. She was then able to share this with her own social circles and it became the public hub of her event. This page gave her more flexibility and engagement than her own website, which is harder for her to update and share.  
Step 6: Build assets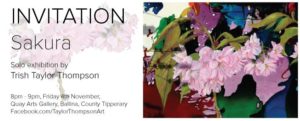 For Trish's exhibition we needed a few key promotional items. A really beautiful invitation and a good quality catalogue were top of the list. For this I engaged with a designer who used graphics of Trish's work along with approved content and brief from me, to create what was needed. Because we had planned this well in advance, we had time to print these and approve them two weeks before the event proper. Having good quality collateral is important. Posters and signs are still one of the cheapest and easiest ways to promote a local event. I use a Dublin based company called wedoprinting.com. Fast, good quality and affordable. Ask for Cian, he's a gem. 
Step 7: Event Management and Press Photography
Just because the day has arrived, doesn't mean your job has ended. The event itself is another opportunity to drive awareness and engagement. That might be as simple as posting the event pictures on social media channels, or it might extend to a photo-call for local photographers. Make sure you find a good spot that is well lit and with a nice background for guest photographs. Sharing these will ensure that the event continues to grow in awareness. For example, post event PR is hugely beneficial as the exhibition will run for another two weeks. You might consider paying for a photojournalist to pay a call – they'll release your photo to all the press for you – for a fee. In Limerick you can call Press 22, in Dublin, try for Mark Stedman (if you can get him) – an award winning, independent press photographer worth his weight in gold. 
Step 8: Shut down
After the event, it's important to roundup the best photographs, update the comms channels (in this case, Facebook and email) communicate thanks to those who have supported and promoted, and to follow up with a final release. This final release has to work hard to provide NEW information. In the case of the exhibition, there was a focus on who came, who spoke, what the work looked like, and how long more the exhibition would be open for. Hopefully you've planned well, given a well constructed and relevant release to targeted publications well in advance, and your client has been rewarded with good coverage and a successful, well attended event. 
I hope that was helpful – if you have any questions, feel free to post them in the comments below 🙂
Emily